Machine de moulage par injection de support de lampe multi-station LED
Cumul de plus de 18 ans d'expérience dans la fabrication de la machine de moulage par injection multi-stations . De plus, les clients peuvent choisir de configurer le système de servomoteur de la machine de moulage par injection pour porte-lampe à LED . Grâce au servomoteur permettant un déplacement précis et un contrôle de vitesse précis, la machine de moulage par injection pour porte-lampe à LED peut réduire le taux de défaillance des produits. Il est propice à l'augmentation de l'efficacité et de la stabilité de la production. Enfin, cette machine de moulage par injection convient aux pièces électroniques, au support de lampe, aux étuis de téléphone, etc.
Image de la machine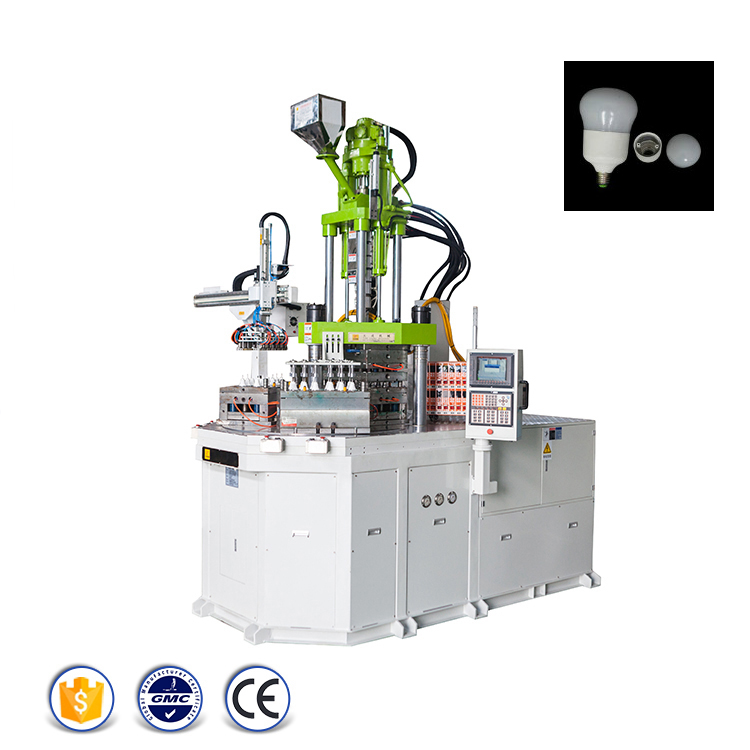 Caractéristiques principales
1. Conception à table rotative à trois stations (une matrice supérieure, trois matrice inférieure), efficace pour augmenter la capacité de production et le facteur de sécurité de la machine.
2. Opération de moule de trois stations en même temps, un grand nombre de temps de changement de moule réduit, amélioration effective de l'efficacité du travail.
3. La commande par ordinateur du PLC est précise pour chaque section.
4. Système servo, positionnement rapide et de haute précision, de sorte que le moule supérieur et inférieur puisse fermer plus précisément le moule.
5. Assemblé avec des dispositifs automatiques tels que l'insertion et le retrait automatiques.
6. Le tamis vibrant permet de séparer rapidement le godet en aluminium qui se chevauchent, ce qui est pratique pour l'absorption automatique des équipements et réduit le délai de livraison du matériau.
Caractéristiques
MODEL
UNIT
TC-1200-VR

INJECTION UNIT
Screw Diameter
MM
40
45
Maximum Injection Pressure
Kg/Cm2
2268
1838
Theoretical Shot Volume
Cm3
201
254
Maximum Shot Weight(PS)
G/oz
187/6.6
236/8.3
Injection Rate
Cm3/sec
140
179
Screw Speed
R/Min
0-200
Screw Stroke
Mm
180
Nozzle Stroke
mm
300
Number of Temperature Control
_
3

CLAMPING UNIT
Clamping Force
Ton
120
Opening Force
Ton
10
Platen Size
MM
1290x560
Slide Stroke
MM
/
Rotary Table Diameter
MM
/
Space Between Tie-Bar
MM
780x380
Minimum Mold Thickness
MM
280/380
Opening Stroke
MM
280
Open Daylight
MM
740/580
Max.Mold Weight
Kg
/
Ejector Force
Ton
4.1
Ejector Stroke
MM
50

ELE.UNIT

Max.Hydraulic Pressure
Kg/cm2
140
Pump Output
l/min
63
Oil Tank Capacity
L
400
Cooling Water Consumption
I/h
800-1000
Electric Power
Kw
15
Barrel Heating Power
Kw
10.7
Total Wattage
Kw
25.7

OTHERS
Machine Dimension(Approx.)
M
2.6x1.8x3.2
Machine Weight(Approx.)
Kg
6000
Specifications are subject to change without prior notice.
Application de la machine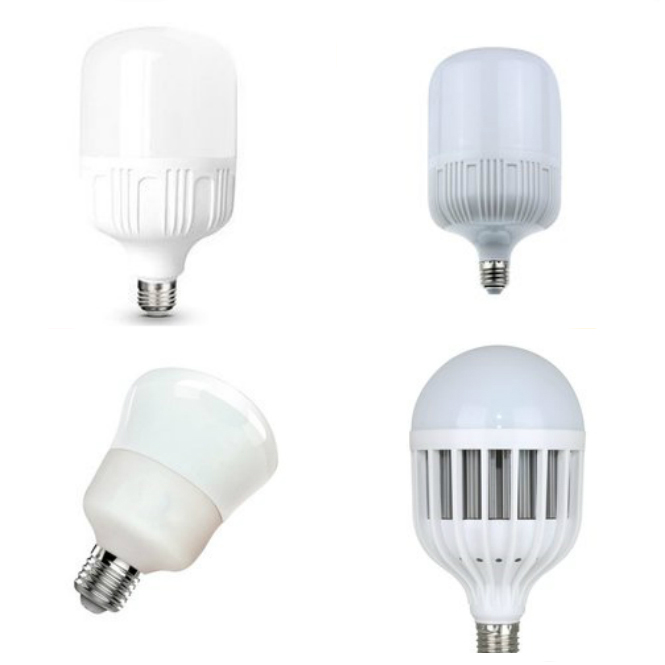 GLOBALISATION D'ÉQUIPES PROFESSIONNELLES
Dongguan Tiancheng Machinery Co., Ltd, créée en 1999, est située à Dongguan (base de fabrication de renommée mondiale), couvre une superficie de plus de 8 000 m, possède des installations de pointe, une équipe technique professionnelle et un système de gestion moderne. La gamme de produits couvre du type standard, rotatif, sous forme glissante, bicolore, Bakelite, BMC, silicone liquide, à l'injection plastique autour d'équipements tels que séchoir à matière, alimentation par aspiration, conception de moule, mécanique automatique.

1. R & D très forte, avec plusieurs demandes de brevet d'équipements auxiliaires de production automatiques (machine de moulage par injection autour).
2. Thrifty / Simple style de travail, Investissement agressif dans les installations de production et la planification du flux de travail, offre aux clients des machines et des moules hautement qualifiés au meilleur prix.
3. Le client couvre principalement l'Asie, l'Amérique du Sud, l'Europe de l'Est, y compris Samsung, Flextronics, COSONIC, CLIP, etc. Les ingénieurs sont disponibles pour servir à l'étranger. Garantie d'un an en tant que service de base et service après-vente sans souci (questions / réponses en ligne sur les messages / e-mails / appels en ligne, instructions graphiques détaillées, vidéo de démonstration de dépannage, etc.).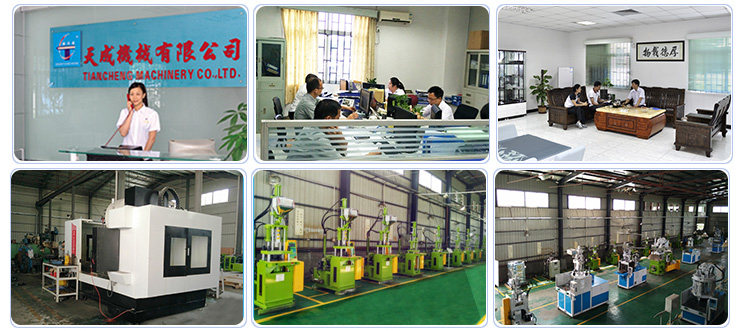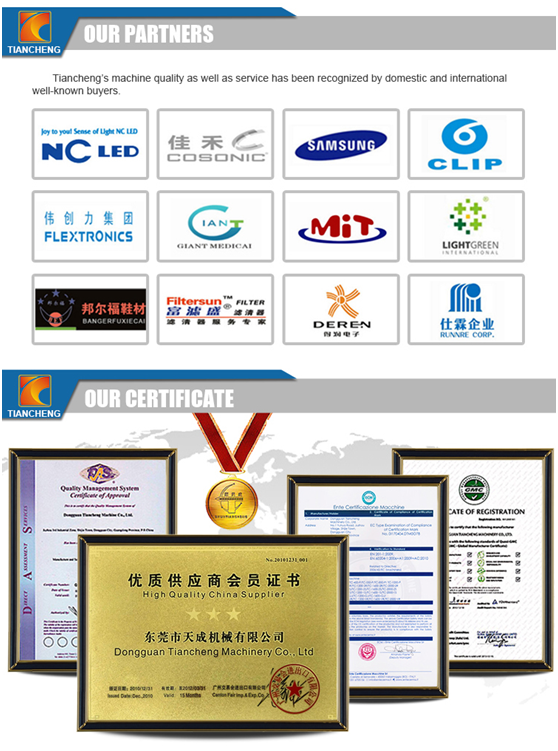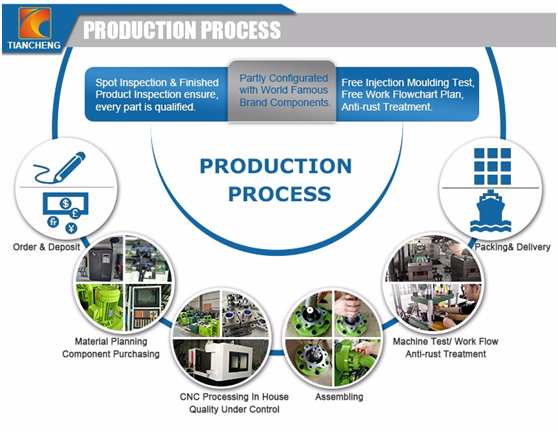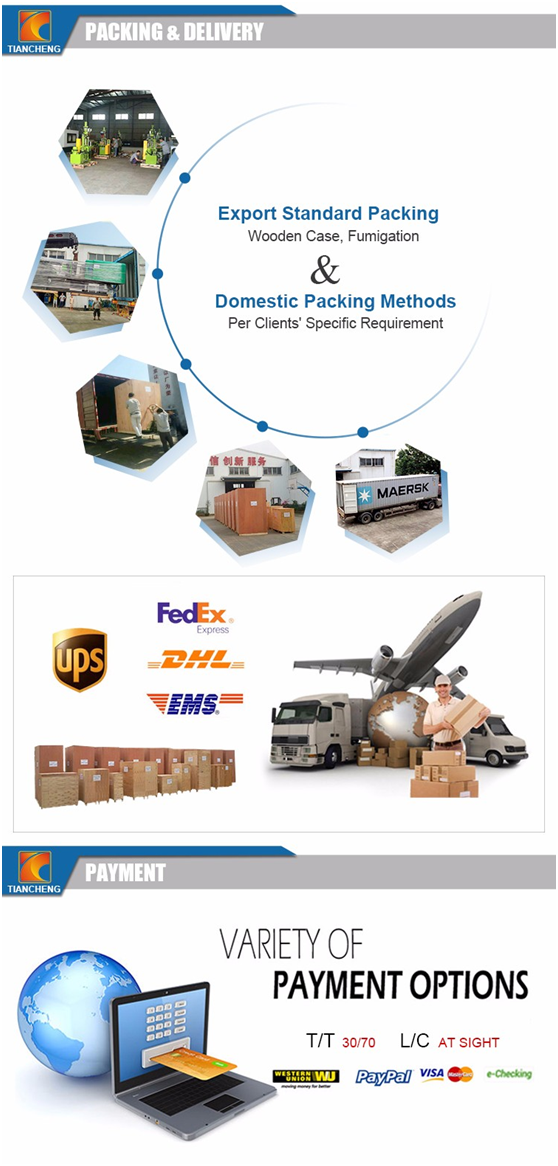 Un service
1. Recommander sur les besoins:
Nous offrons des informations sur les dimensions du produit / des moules / les matériaux de fonctionnement / la fiche technique, nous vous ferons une recommandation et nous comparerons les moules.

2. Nous fournissons un service OEM à nos clients.

3. Dispositif personnalisé auxiliaire automatique.
tels que la main mécanique pour le retrait du produit et l'insertion de l'accessoire, l'alimentation automatique des matériaux en rouleau pour l'étiquette de suspension du vêtement, ou des options à efficacité accrue dans la conception des structures de la machine, telles que la table rotative et la table coulissante, ainsi que le servo adopté.

4. Support technique en ligne.
Dans certains cas, un support technique professionnel sera nécessaire, tel que la résolution du premier paramètre ou la résolution des incidents d'urgence. Vous pouvez à la fois faire une demande en ligne ou nous envoyer un courriel. Une réponse immédiate sera disponible pendant les heures de travail.

5. Garantie et service après-vente.
Nous fournissons une garantie d'un an pour la machine et les accessoires, ainsi que les frais de livraison pour le remplacement des pièces par le client Nous pouvons également fournir à nos clients un service de maintenance à l'étranger, des frais de vol et de subsistance sur nos clients.

a) Comment puis-je passer la commande?
R: Vous pouvez nous contacter par courrier électronique pour connaître les détails de votre commande ou passer votre commande en ligne.
b) Comment puis-je te payer?
R: Après avoir confirmé notre IP, vous pouvez payer par T / T (banque HSBC) et par L / C.
c) Quelle est la procédure de commande?
R: 1. Nous discutons d'abord des détails de la commande et de la production par courrier électronique ou par consultation en ligne (Wechat / WhatsApp).
2. Ensuite, nous émettons un PI pour votre confirmation. Le client devrait faire le dépôt de paiement avant que nous entrions en production.
3. Après réception de l'acompte, nous commençons à traiter la commande.
4. Avant la fin de la production, nous vous contacterons pour confirmer la vidéo des détails de la machine et vous devrez préparer le paiement du reste.
5. Après réception du paiement restant, nous commençons à expédier les marchandises pour vous.
d) Comment contrôlez-vous la qualité tout au long du processus de production?
A: Nous avons l'inspection de tache et l'inspection de produit fini. Nous vérifions les produits semi-finis avant qu'ils entrent dans le processus de production de l'étape suivante.
e) Comment gérez-vous lorsque vos clients reçoivent des produits défectueux?
R: Nous offrons une garantie d'un an, et les dommages non-artificiels peuvent être remplacés gratuitement. Si vous avez un petit problème, nous vous aiderons en envoyant une vidéo ou un graphique. Chaque fois que vous avez des questions, vous pouvez demander conseil via un appel téléphonique ou une consultation en ligne (Wechat / WhatsApp).

Sara Ting
Export Manager
TianCheng
Wechat

: +86 13922548377 (Mobile)


WhatsApp

: +86 18024336689




1 Yuhua Rd., Juzhou Vil., Shijie Tn.,




Dongguan, Guangdong, China



Groupes de Produits : Applications de client de machine de moulage par injection en plastique > Machine de moulage par injection de tasse de LED